Top 10 Asian beers
1) Saigon Beer
The Vietnamese beer is brewed with barley and rice, and casts a bright golden color with a thick and creamy white head. This is a special lager with an acidic character, as people (Vietnam) this kind of drink beer in the sun it is soft and refreshing, back in the Netherlands or Belgium seems slightly sour and full. In general, this is a beer with a reasonably low alcohol content of 4.9% and comparable Dutch pilsner.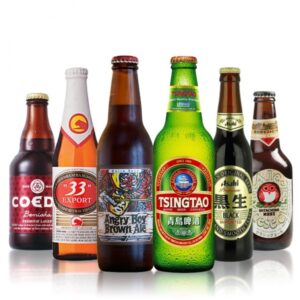 2) Angkor (Cambodia) bear
This is sold with the slogan 'My bear, my country. " It is a national beer, named after the temples currently attract millions of tourists to Cambodia. Angkor you become a proud Cambodian, because it is a refreshing beer with a full, subtle flavor. One of the few beer brands that I have encountered on tap. This beer is often confused with a beer called Anchor. However, that is a stale beer and you should not have, Angkor is much tastier. Who locally, Cambodia, to order: Angkor pronounced as Ang-kor, and Anchor pronounced as an-tjor.
3) Asahi super dry
With its refreshing barley flavor and crisp aftertaste Asahi Super Dry is by far the most popular high-quality beer in Japan. Since its debut in 1987 as the first dry beer from Japan, the taste was out of this exciting beer being improved. The taste has set a new standard that is now recognized around the world.
4) Tsingtao from China
Tsingtao is a world famous beer brand. It was in Qingdao city brewed by German and British settlers in 1903, Tsingtao beer consists of four ingredients fine hops, barley, rice and clean Laoshan mineral water. The alcohol content between 3.5% -4%. Tsingtao beer is made kristallig water by army has a clear pale yellow color, white foam and ensures long-lasting fresh and clean scent.
5) Tiger beer
Launched in 1932, Tiger Beer is currently brewed in 11 Asian countries and enjoyed in over 75 countries in Europe, USA, Latin America, Australia and the Middle East. As one of the leading contemporary beer brands in the world, Tiger Beer goes through a rigorous brewing process that lasts more than 500 hours and it is all made use of the best quality ingredients. The beer has also won over 40 international awards and award.
A new variant of Tiger Beer, Tiger Rädler a product innovation that Tiger Beer mixes with natural lemon juice. Tiger Rädler offers double refreshment for all occasions and is a delicious thirst quencher with its sharp fruity flavor that is rooted in the beer. For a limited time, Tiger Radler also available in a Mandarin version.
6) Owa beer
Owa beer was born in May 2006. It was brewed and designed for the best Belgian and Japanese fusion food experience. It is indeed a very good combination with sushi and YAKITORI (sweet soy sauce). The brewery is located in the famous district of Uccle in Brussels, just 2 km from Moeder Lambic in Saint-Gilles. Leo Imai started brewing in December 2008 and in 2009 he made a sort of kitchen laboratory in the brewery, and examined the best combinations of Japanese food and beer.
7) brewery Abashiri, Hokkaido
In 1998, the brewery Abashiri began as an initiative of the Tokyo University of Agriculture's farming faculty to do research into the development of the production of wheat beer. They are best known for their very unique Ryuho Okhotsk Blue Draft. This beer mixes the most unusual ingredients from the water from melted icebergs flowing into the Sea of ​​Okhotsk in the Pacific. Also, the vivid blue color of the beverage which is obtained by the addition of natural gardenia pigment to the mix in order to represent the ocean area. Originally colored beers are definitely the specialty of Abashiri.
8) Beer Lao, Laos
Pale Lager 5%
Time Magazine named it "Best beer from Asia." Dark and solid, powerful flavor than some of the other pale ales in the region, despite the dark color is made from rice.
9) Chang Beer
The cheaper and stronger alcoholic beer. It is known as the "poor man's beer" or "Elephant piss' and it's perfect for the day when you realize that the US dollar loses its value and your backpacker budget has lost a third of its value. there are rumors that Chang is brewed with formaldehyde (a type of gas), and it has a strong "back of the throat 'outstanding taste. Also served cold in a cooler!
10) Leo
One of the most famous beer from Thailand and available in most countries of Southeast Asia, Leo is very competitively priced at about 42baht ($ 1.40) and a 640ml bottle.
It still loses the Cambodian prices, but it is certainly one of the most affordable Asian Beers. It is refreshing and is committed not matter once the bottle is heated a little in the sun. Quite an acceptable brew compared to the disgusting bite of a bottle of Chang Beer (also known as "Elephant piss" by the locals).