How to make vegetarian sushi?
Spring is a great time to experiment with the delicious fresh vegetables that are available and make delicious vegetarian sushi. To begin with, what you need are a few of the basic ingredients and tools needed. Once you have the tools in your pantry, you can use whatever vegetables you have on hand to make delicious vegetarian sushi.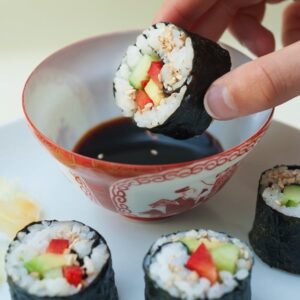 Sushi Tools: You only need two special tools: a bamboo mat to roll the sushi and rice paddle. If you have no wood spatula you can also temaki (hand rolls). A bamboo mat is inexpensive and can be found on a Japanese market, kitchen specialty stores or online. It is usually given a rice paddle. All items are available at The Oriental Webshop.
A few examples of vegetarian sushi recipe are cucumber rolls with beetroot, avocado with peppers, etc … These sushi gets its delicious taste the great variety of "green" ingredients. If you choose the best types of vegetarian sushi, you can enjoy a delicious meal, which also provides many health benefits. Always choose the option of a base of brown rice instead of white rice as possible, because brown rice more useful substances such as proteins and complex carbohydrates. Unfortunately, not all sushi shops and restaurants offering brown rice, will become sushi made with mostly white or brown rice.
How do you make a veggie sushi? Below are what you need !!!!
• 1/2 cucumber
• jar of pickled ginger (pickled ginger)
• 1 ripe avocado
• 1 red pepper
• 3 eggs
• 2 tsp mixed oriental spices (turmeric, Djintan, etc)
• 2 tbsp oil for frying
• 1 spring onion
• bottle of soy sauce, savory
• 100g samphire
• 100g shiitake
• 5 sheets of nori
• 3 tbsp sesame seeds, toasted
Cut the cucumber, avocado, shiitake mushrooms and the peppers into long, thin strips. Beat the eggs with some oriental spices to taste and possibly add some salt and pepper. Bak there is a small omelette in the oil. Wok shiitake and samphire al dente (sold separately). Cook the sushi rice cooked as directed on the package.
Choose from the following fillings:
– Cucumber with pickled ginger
– Avocado and red peppers
_ Avocado with beetroot
Place a nori on a bamboo mat. Spread a layer of sushi rice on the top half of the sheet. Place a small piece filling in the center of the rice (in the long way), and beginning from the rice-side from top to bottom to roll up, such that the filling comes in the middle of the roll. Take the remainder of the sheet where there is no on rice is wet and role further. Cut the roll into thick slices and put right. This type of sushi is called maki sushi.
To make a California roll, you take half a nori and you cover it completely with a layer of rice (press firmly!). Turn over a piece of cling film and toppings now empty, black back of the nori with a strip of filling. Now roll from top to bottom, so that the rice is on the outside. Use of the foil to roll on the tight. Cut into thick slices and roll the round side with toasted sesame seeds.
Serve the veggie sushi on a nice big plate with small bowl of soy sauce and pickled ginger with it. Conveniently, in order to make a salad of the remaining filling.